Hverfjall Crater – Early Morning sunrise Hike.
Book Now
Experience the Sunrise at the top of Mt. Hverfjall volcano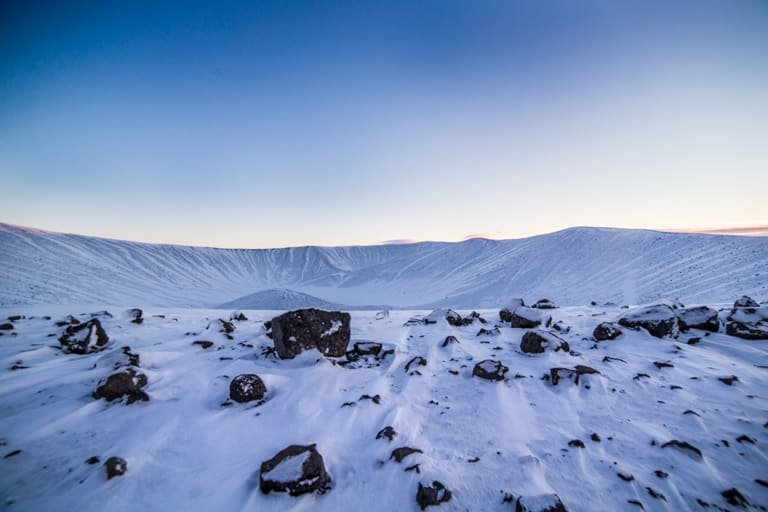 Hverfjall Volcano Early morning Sunrise Hike 
Mt Hverfjall volcano is one of  the biggest tephra craters on earth.  The crater was formed during an explosive eruption only around 3000 years ago. Due to the volcanoes central location in it provides a complete panoramic view over the entire lake Myvatn area. The view from the top therefore provides a unique birds eye view over Myvatn and its surroundings. From the rim of the crater it is easy to realize how the tectonic plate movements have shaped and formed this volcanic active area for thousands of years.
The Hike it self
The hike it self is rather easy approx 100 meters incline at 15-20°. When needed Geo Travel provides extra spikes for  your shoes.  The need for crampons depends on conditions of the path. In some cases snowshoes will be needed to walk to the crater, in that case the walk to the crater is aprox 1,5km. Once your reach the top of the crater the walk around the rim is approx 2 km.
Departure time changes due to sunrise times
We aim to do the climb as the sun is rising and stand on the south top while the sun peaks over the horizon. The low angle of the winter sun in Icelands provides us with incredible sunrises almost every day. Departure time starts at 09:00 in January and 6:30 in Mars. Pickup time is confirmed during bookings
During the time of 14th February – 14th Mars the tour is operated 3 day's per week with a minimum of 2passengers
Any other day the tour is operated at Minimum 4 passengers or minimum rate.
You can book a private tour by contacting info@geotravel.is